At Last, the long awaited and fantastic news that guitars containing rosewood parts will be permitted to trade cross borders in and outside the EU & ROW.
Finally, we can all breathe a sigh of relief & get back to normal & exciting trading with our global customers!
**********************************************************
CITES rules end for rosewood in musical instruments, official end date announced
Approximate reading time: 1 Minute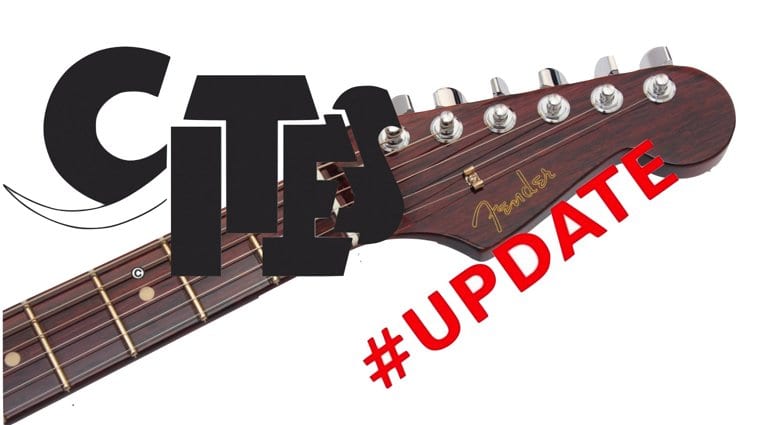 CITES Update 2019  ·  Source: Fender/CITES
It's official: CITES rules will no longer apply to rosewood used musical instruments! The end date has been fixed: 26 November 2019.
Finally, an official end date for the CITES regulations on rosewood for the music industry. From the day it was implemented, CITES caused the music instrument industry nothing but headaches. Musicians ran the risk of losing their guitars (or at least parts of them) to customs officers. Now it's finally over and the guitar world can finally breathe a sigh of relief.
It's official, at last!
Here's an excerpt from NAMM's statement about the announcement:
Today CITES (Convention on International Trade in Endangered Species of Wild Fauna and Flora) issued an official notification stating that the effective date for the musical instrument exemption from the dalbergia permitting requirement is November 26, 2019.

[It] also contains definitions applicable to the exemption. As noted upon the approval of Annotation 15, imports and exports of finished musical instruments, finished parts, and finished accessories will no longer need a CITES permit. The exception applies to all species of dalbergia except Brazilian rosewood, which remains on CITES Appendix I. As a best practice, NAMM Member companies should continue to work with their Management Authorities in their country of export/import to ensure compliance.
This exemption to the CITES regulations for rosewood is welcome news to anyone that travels with musical instruments that use dalbergia and, of course, for all the instrument makers around the world. Now finally we can all get back to making music and not worry about losing our prized guitars at customs.